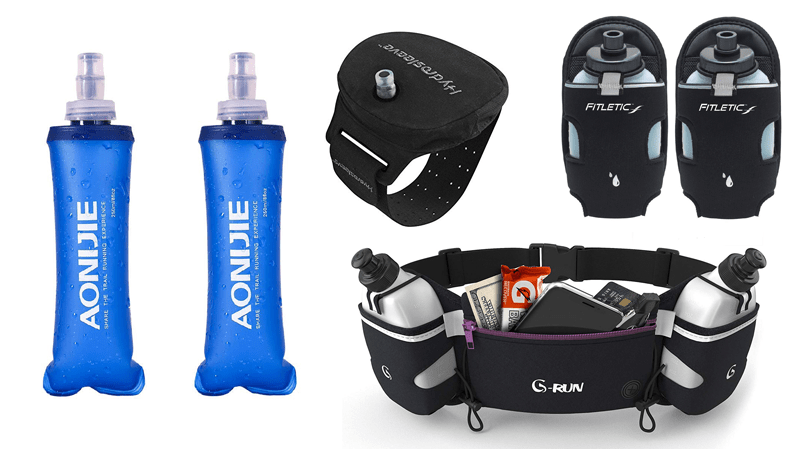 What's the best running water bottle out there? Staying hydrated during sport and other forms of physical activity is crucial to keep your body going. However, carrying a water bottle by hand can be a pain, especially while running.
Reducing bulk is why many runners 'wear' their water bottles, either in armbands or belts. These bottles will keep you hydrated while running, hiking, or even just walking the dog.
Note
: This post contains affiliate links. When you buy something using our retail links, we may earn a small affiliate commission at no cost to you. Read more about
how this works
.
Fitletic Hydration Bottles & Holsters
TRIWONDER Soft Folding Water Bottles
G-RUN Hydration Running Belt with Bottles
URPOWER Multifunctional Running Belt with Zipper Pockets
BPA free
Dishwasher safe
Fits most running belts
Contoured natural-grip running water bottles
Quick-flow race cap
One-handed drinking

BPA and PVC free TPU
Tasteless and eco-friendly
Leak-proof
Compresses as you drink
Easy-drink straw - just squeeze
Can be frozen and chilled overnight
Ultra-light
BPA free
2 x 10 oz bottles
Bounce-free design
Adjustable
Marathon tag holder
Large inner pocket
Pocket fits most phones
Carry protein bars or energy gels
BPA free
Includes 2 water bottles
Belt is water-proof and tear-resistant
Zipper pocket
Pocket fits most smartphones
Fits waists from 23" to 53"
Lifetime Warranty
Staying Hydrated on the Move: Running Water Bottles, Belts, and Armbands
drinking water
throughout the day, especially when exercising. Exercise makes you sweat, which means your body is losing water, so drinking more water will allow your body to replenish its water reserves.
Drinking water during physical activity will allow your body to regulate its temperature better, reduce stress on your heart, and keep your physical and mental performance in peak condition.
Running water bottles allow you to drink water conveniently while exercising, keeping your body functioning as it should!
Won't Drag You Down!
Running water bottles, belts, and armbands are designed for endurance, speed, and being used while attached to a moving body, and that means optimization for running. They are lightweight, easy to use, and keep water within reach (or even closer, if it's an armband).
Being lightweight means the bottles – even when filled – won't weigh down on your hips as you run. Belt holsters and pouches keep everything secure yet easy to access while moving: you can grab a bottle and drink from it single-handedly, which means you won't lose your pace or rhythm while running.
Staying hydrated shouldn't be a worry, and running water bottles exemplify this concept.
BPA-Free Plastic Bottles
BPA, short for bisphenol A, is a chemical compound used in the production of many plastics. BPA is a xenoestrogen, which means that it can mimic estrogen, a female sex hormone, in the body.
This fact, along with the prevalence of BPA-plastics, has caused people to grow concerned about BPA's effects on human health. Research has shown that BPA, in the small amounts it's found in everyday products, isn't much of a health concern. Despite this, many people are still worried about its use and will try to avoid purchasing such products containing BPA, and manufacturers have responded accordingly.
For these reasons, all of the bottles we reviewed are BPA-free.
Which Running Water Bottle Is Right for You?
Running water bottles are the perfect accessory for active people. They allow you to stay hydrated while running, hiking, and walking without the need for a bulky backpack to carry a water bottle.
If you're looking for a way to keep hydrated while you're out for a jog, a running water bottle may be an excellent choice for you. However, these bottles aren't intended for many activities outside of running or hiking. The bottles don't hold enough water to hydrate you for the day, and they aren't insulated either.
If you're looking for a water bottle for school, work, camping, or road trips, you should check out our other reviews.
[image link to reviews]
Our Best Running Water Bottle Picks
Hydration Bottle Holder by Fitletic
These water bottles come in holsters that easily attach to most sports/running belts.
The bottle is shaped to fit comfortably in your hand and is readily accessible for single-handed drinking.
The holster secures the water bottle well, making this bottle suitable for running, cycling, and other forms of intensive physical activity, since the bottle won't come out of the holster unless you pull it out.
It is available in 2 different sizes, and single or double packs to suit your hydration needs.

Pros
The bottles are available in 2 different sizes.
Available as a single or double pack.
BPA-free plastic.
Dishwasher-friendly.
Cons
Doesn't include a sports belt.
Overfilling may cause the water bottle may leak.
The holster is a little on the heavy side – some users found it slowed them down or caused their belt to shift and slide down.
---
Soft Folding Water Bottle by Triwonder
This water 'bottle' is more of a stand-up pouch. The pouch is foldable, freezable (pop it in the freezer overnight to chill it), and lightweight, so it won't weigh down your backpack or be too heavy to carry by hand.
Give the pouch a gentle squeeze to drink water from the silicone nozzle or even through a straw (available for purchase separately).
Available in a wide variety of sizes 8.45oz (250mL), 11.83oz (350mL), 15.22oz (450mL), 16.9oz (500mL), 20.29oz (600mL).
When buying this flexible water pouch, make sure you check the size of the bottle holsters on your belt or backpack before purchase to ensure this water pouch will fit.

Pros
Very lightweight
Available in single or double packs
Can be used for other sports, not just running
Cons
Doesn't come with a holster or sports belt
May be more likely to spring a leak
---
Hands-Free Armband Hydration Pack by Hydrosleeve
No products found.
No products found.
This armband allows you to hydrate hands-free! Intended for runners, you can drink out of the inner water bladder by merely swinging your arm up close to your face.
The bladder compresses itself as you drink it too, so the water won't slosh around inside while you run. Even better, this armband is insulated, so your water will stay cold for longer!
The armband is available in 3 different sizes, so you can get one to fit your arm correctly.

Pros
Available in different sizes.
Lightweight and hands-free, so you won't break your running rhythm when you need a drink.
Using an armband means you won't have to carry a water bottle or wear a belt.
Can remove the bladder and use the armband to hold other things – like a credit card while traveling.
Cons
Not designed for physical activities outside of running, walking, or hiking.
The armband sizing isn't easily adjustable.
---
Hydration Running Belt with Bottles by G-Run
This hydration running belt includes holsters for 2 water bottles, which are included with purchase.
There's a zippered pouch between the water bottle holsters that can hold your smartphone, as well as identification or keys. And the zippered pouch is also a great place to store protein bars and energy gels for keeping your energy levels up during longer runs and competitions.
The pocket features an opening for your earbud or headphone wire to connect to your phone, allowing you listen to music while you run.
The belt has adjustable elastic and can stretch to fits waists for various body types, as well as ensuring the belt won't slip or move while you run.
This belt and water bottle combo is perfect for using during a marathon, but is also suitable for shorter runs or even just walking your dog.

Pros
The zippered pouch can hold your phone, important cards, car/house keys, or even snacks for longer runs.
The elastic waistband ensures the belt will fit a variety of waist sizes.
Four accent colors to choose from.
Cons
This belt may not fit people with narrower hips (men in particular), causing the belt to slide down while you're running.
Two 10-ounce (296 mL) bottles are weightier than smaller water bottles.
Holsters are tight, which might make it difficult to put the water bottle back in the holster single-handedly while moving.
---
Multifunctional Running Belt with Water Bottles by Urpower
This running belt comes with water bottles, making it a good all-round purchase if you don't already have a running belt.
The belt fits most people, and it can be adjusted to fit waists from 23 to 53 inches (58 to 135 centimetres).
The water bottles are easily removable from the holsters while running, and since the belt includes two, you'll stay hydrated for both short and long outings.
There's a zippered pouch in the front of the belt that will fit most smartphones, as well as having room for house keys, ID, and bank cards.
The zippered pouch also has a small hole for earbud wires, which means you can listen to music while exercising!

Pros
Belt is easily adjustable to fit most people
Available in a few different colors.
Zippered pouch fits most smartphones.
Accomodates earbud wires.
Cons
May not fit people with smaller waists.
Bottles tend to bounce while you're running.
Zippered pouch isn't waterproof.
---
Our Top Pick
Out of the running water bottles we reviewed, our favorite is Hydrosleeve's Hands-Free Armband Hydration Pack.
We like the Hydrosleeve not only because it's hands-free, but also because it eliminates the need for a running belt. You won't have to slow down to jimmy a water bottle out of its holster when you're wearing an armband. You can focus that energy on your breathing and running pace instead!
We also like the fact that the armband is insulated, which means your water will stay chilled for longer than it will in a regular bottle. In our opinion, Hydrosleeve's Hands-Free Armband Hydration Pack is a great all-around choice for a running water bottle.
Whether you prefer a belt, armband, or regular bottle, all the running water bottles we reviewed are sure to keep you refreshed on-the-go!
Table could not be displayed.